PRESSROOM | VEGAS PBS RECEIVES THREE 2021 EMMY AWARDS
by
Published on
• Last modified on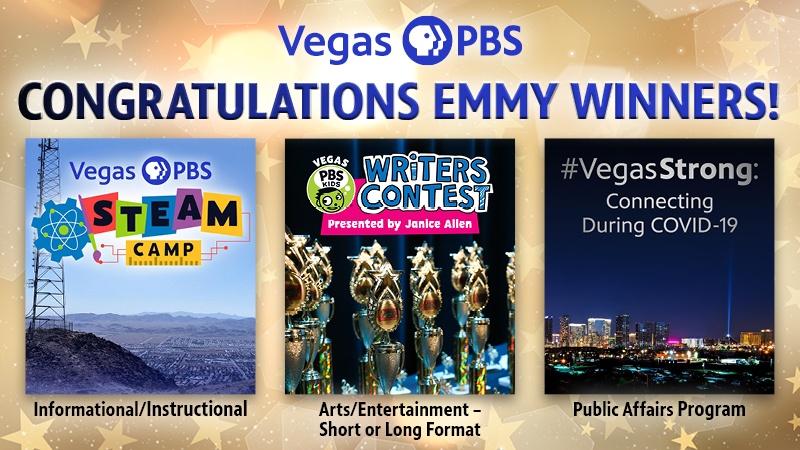 Pressroom 2021
LAS VEGAS, NV - Vegas PBS is delighted to share that three of its original programs have each won a Pacific Southwest Emmy Award. These accolades are a testament to Vegas PBS' dedication to excellence and to serving Southern Nevada even through the most difficult of times.
Although learning had to be remote for most of 2020, Vegas PBS' commitment to delivering educational content was unhindered. The long-running Vegas PBS KIDS Writers Contest Presented by Janice Allen was adapted to a broadcast special featuring animation that brought children's illustrations to life. Vegas PBS STEAM Camp, a new program which premiered in July 2020, is a multi-platform series that fosters positive attitudes and perceptions about STEAM (Science, Technology, Engineering, Arts and Math) in children ages 6-8 through real-life applications in Southern Nevada.
Community mental health and well-being was also at the forefront for Vegas PBS. The survivors and loved ones of October 1 victims were typically able to find solace through in-person gatherings, but that was not feasible during 2020. #VegasStrong: Connecting During COVID-19 examined the challenges this community faced during lockdowns and provided information on available services.
"These awards demonstrate that above all, Vegas PBS is a station that prioritizes its local community," said Mary Mazur, President and General Manager of Vegas PBS. "Even when we are physically apart, public television can be the link that keeps us together."
In addition to the three Emmy Awards, several other original programs from Vegas PBS have received recognition from the Telly Awards and other renowned film festivals.
All of the winning and nominated programs can be viewed at vegaspbs.org. Below is a detailed list of awards received by Vegas PBS original programs and respective winners.
2021 Pacific Southwest Emmys
2021 Telly Awards

The Communicator Awards
Award of Excellence — The Showgirl: A Las Vegas Icon
Bare Bones International Film and Music Festival
Legacy Award — The Showgirl: A Las Vegas Icon
Muskogee Film Festival
Best in Show — The Showgirl: A Las Vegas Icon
About Vegas PBS
Vegas PBS is a member-supported public television service providing educational content for over 50 years. Vegas PBS builds community through television, education services, and unique experiences that create a sense of place, civic and social capital. For 12 consecutive years, Vegas PBS has remained among the top five most-watched PBS stations in the country. The station offers five unique secondary channels: Create, VEGAS PBS KIDS, WORLD, Rewind and Jackpot! The station collaborates with community partners to create award-winning content that examines informational, cultural, historic, and educational regional issues.
Vegas PBS provides a robust variety of education services that extend the educational experience beyond the broadcast. Resources and services include Vegas PBS' Ready To Learn educational workshops for children and families, professional development for teachers, online learning courses and certifications for adults, multimedia educational support for educators, 22+ channels of educational and local news for in-classroom viewing, and a Special Needs Resource Library serving those with special needs throughout the state of Nevada.
Vegas PBS viewers can access their favorite shows across multiple platforms including broadcast, vegaspbs.org, the PBS Video App and the PBS KIDS Video App. For more information, visit vegaspbs.org or find us on Facebook, Twitter, Instagram, LinkedIn and YouTube.
###
MEDIA CONTACT:
Jennifer Bradley
jennifer@jbpublicrelations.com
702.234.9385