SPECIAL NEEDS RESOURCE LIBRARY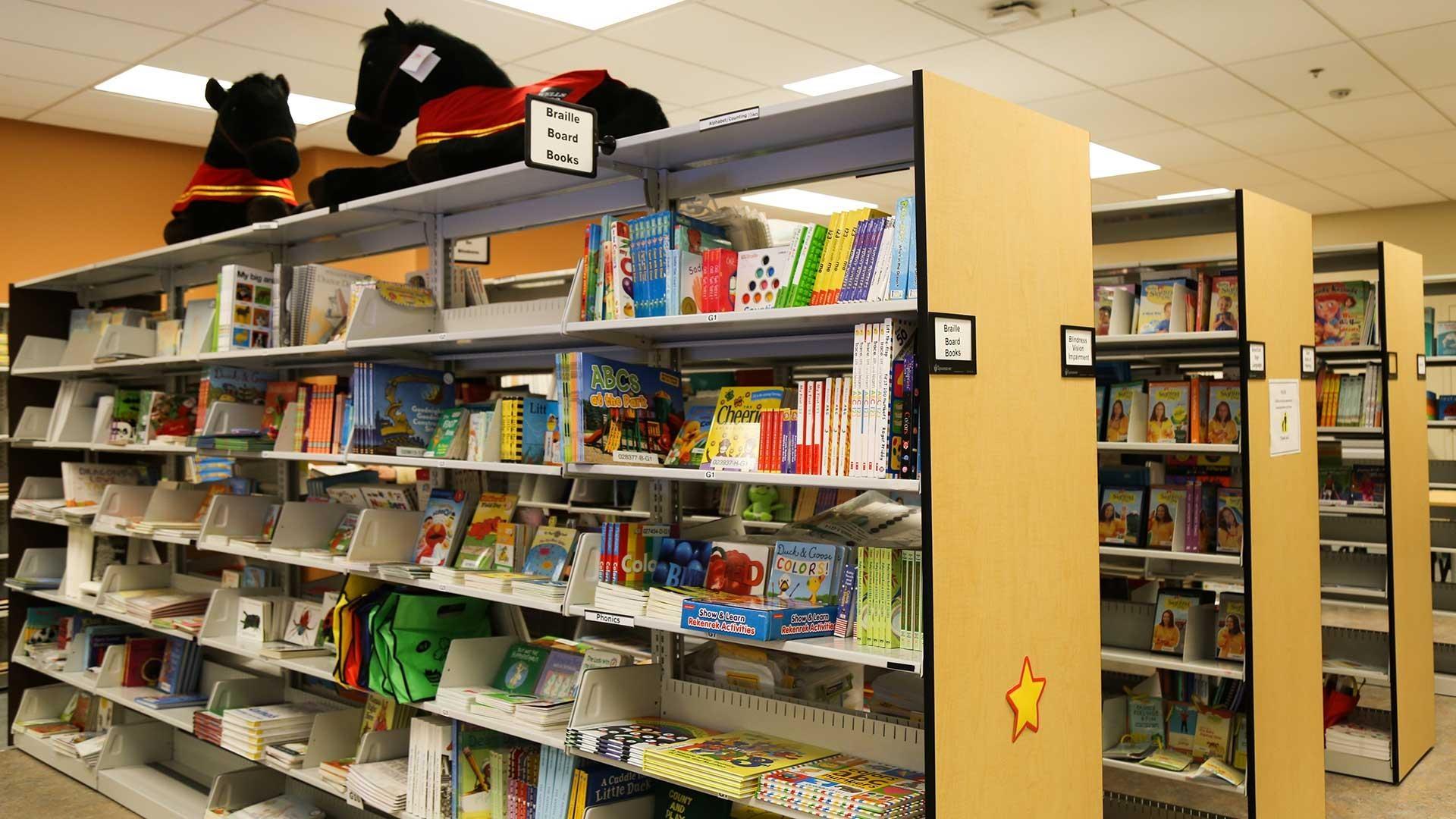 Please note that the Vegas PBS Special Needs Resource Library is temporarily closed due to Governor Sisolak's announcement on the mandated closures to prevent the spread of COVID-19. The safety and well-being of our guests is our highest priority. The library will remain closed until further notice.
Vegas PBS Special Needs Resource Library is a free-loan educational media library for all Nevada citizens. These services include the following.
Audio & Braille Books
Audiobooks including Playaways as well as Braille books are available along with many Caldecott and Newbery Award Winning titles.
Classroom Kit: Understanding Blindness and Visual Impairment
This comprehensive unit of study teaches teachers and students how to interact with peers who are blind and visually impaired while engaging the VI student as well. While participating in fun and interactive activities, students learn about Braille, Courtesy Rules for the Blind, Sighted Guide and more!
Closed captioned DVD
For the deaf and hard of hearing we offer many closed captioned titles. Captions display the audio portion of the program as text.
Descriptive DVD
Audio description makes key visual elements in videos accessible to blind and visually impaired students.
Educational Games
Board games, puzzles and more for deaf, hard-of-hearing, blind and visually impaired are also available on loan.
Family Literacy Kits for the Blind and Visually Impaired
Family Literacy Kits offer fun and interactive activities to be shared between you and your child. Large print and Braille books included along with descriptive video.
Family Literacy Kits for the Deaf and Hard of Hearing
Share a story book and related closed captioned video with your child along with engaging activities.
Contact Us
3050 E. Flamingo Road
Las Vegas, NV 89121
Special Needs Resource Library
702.799.1010 Option 7
Email: specialneeds@vegaspbs.org
Special Needs Resource Library
Introduction to the Special Needs Resource Library
The Vegas PBS Special Needs Resource Library is a program available to all Nevadans.
Corporation for Public Broadcasting (CPB)
Station Spotlight:
Vegas PBS Expands Learning Services
to the Under-served
"Those who have learned about us value and utilize our resources. Patrons are telling other organizations and families about our services and bringing them in to visit our library. We have new clients visiting our library every week."
Teacher Testimonials:
"Your program has been a great supplement to my teaching. Thank you again for your hard work supporting the classroom."
Roxanne Vaughan
Teacher of the Deaf / Hard of Hearing
Liberty High School