Please note all events are subject to rescheduling or cancellation. Check back for the latest information.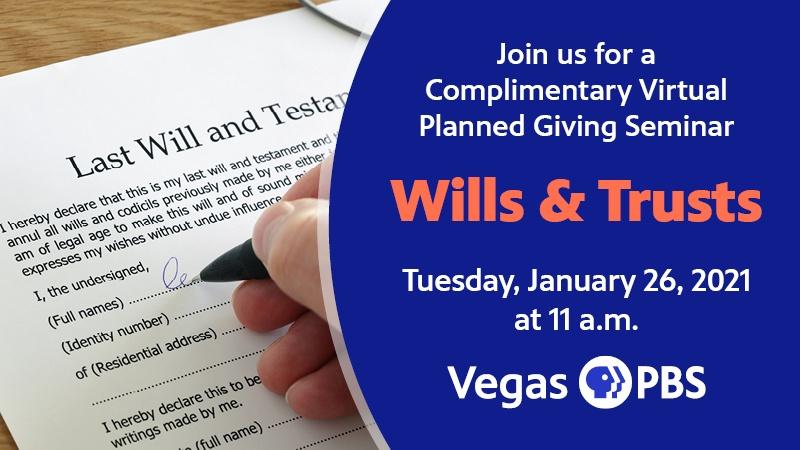 FREE VIRTUAL SEMINAR: Wills & Trusts
Join Vegas PBS for a complimentary virtual seminar on Tuesday, January 26, 2021, beginning at 11:00 a.m. to learn about how to proactively prepare your will and trust. This seminar will be led by Vegas PBS Planned Giving Council members Deb Erdmann, Robert Bolick and Patrick Clifford. Call 702.799.1010 x5499 to reserve your seat today.
The wills and trusts portion of our afternoon presentation will include:
Determining if a will or trust is right for you
Drafting a will and setting up a trust
Best practices for document sharing and storage
Function and funding of trusts
Budgeting for estate documentation
Charitable planning

Our upcoming seminar will provide information on these topics and help you determine how to best plan your legacy, while enjoying your retirement to the fullest and traveling the world.
SEMINAR: Wills & Trusts
FACILITATORS: Deb Erdmann, Robert Bolick and Patrick Clifford
DATE: Tuesday January 26, 2021
TIME: 11:00 a.m.
LOCATION: Virtual - Link to attend will be emailed after registration.
Contact Lana Prusinski at 702.799.1010 x5499 or lprusinski@vegaspbs.org to reserve your seat.
Note that space is limited to the first 125 RSVPs.

Support Vegas PBS in our mission to inspire, enrich, and educate.
Donate
Working in your 60s, 70s & 80s|Tax Planning - Nov. 2020
Learn strategies for working in your 60s, 70s and 80s and tax planning.
Role of Investing, Medicare and Medicaid-September 2020
Learn details about investing for healthcare and updates to Nevada Medicare/Medicaid laws.
Guardianship, Care Providing & Hospice Care-August 2020
Learn about guardianship, care providing and hospice care in Nevada.
Wills and Trusts Seminar - June 2020
How to proactively prepare your will and trust and strategies to avoid probate.
Charitable Planning Seminar - May 2020
Learn about the SECURE Act and the CARES Act and how it affects you.