Smith's Inspiring Donations
Support Vegas PBS every time you shop at Smith's!
Go to smithsfoodanddrug.com/inspire, sign into your digital account and link your Rewards Card to Southern Nevada Public Television. Smith's will donate 0.5% of your total eligible purchases to Vegas PBS.
IRA RMD (Required Minimum Distribution) & Donor Advised Fund (DAF)
For your convenience listed below are some financial institutions that support this type of giving. Please note your financial institution will recognize Vegas PBS as Southern Nevada Public Television (23-7169328).
IRA RMD & DAF
Thank you for your consideration of making a gift through your Donor Advised Fund (DAF) or through your IRA RMD (Required Minimum Distribution), as a qualified charitable distribution.
When you choose to make a gift from your IRA that satisfies your required minimum distribution, ensure that your financial advisor notes the gift as a Qualified Charitable Contribution to a 501(c)3 such as Southern Nevada Public Television. This ensures that the amount of your donation is excluded from your taxable income, which is unlike a regular withdrawal from your IRA. Keeping your taxable income lower may reduce the impact of certain tax credits and deductions including Social Security and Medicare.
For further assistance in making a gift from your DAF or IRA contact your financial advisor or call the Major Gifts department at Vegas PBS 702.799.1010 x5499. (Your financial advisor will ask you for the following information on behalf of Vegas PBS).
Legal Name: Southern Nevada Public Television
Tax ID: 23-7169328
Address: 3050 East Flamingo Road, Las Vegas, NV 89121
Phone: 702.799.1010
Fax: 702.799.2806
Website: vegaspbs.org
Email Contact: bequest@vegaspbs.org
Charitable Gift Annuities
How Charitable Gift Annuities Work
A charitable gift annuity can be established with a gift of $5,000 or more to Vegas PBS. In exchange for your gift, our annuity provider CGA America will pay you income for life. You must be at least 50 years of age.
The income you receive is determined by the amount of your gift and your age(s).
How It Works
You make an irrevocable gift of cash in the form of a check made out to CGA America. In exchange, our annuity provider CGA America pays you a fixed amount each year for the rest of your life. When you pass away, the remaining annuity principal passes to Vegas PBS to support quality public television programs.
Your Benefits
Generous, partially tax-free income for life
An immediate income tax deduction
Professional annuity administration by CGA America
Membership in our Silver Legacy Society
The satisfaction of making a significant contribution to the future of public television
Gift Annuity Rates Table
The income you receive from your charitable gift annuity is determined by the amount of your gift and your age when you make the gift. For rates at specific ages, see the table below. For other information, including charitable deductions, please contact us at bequest@vegaspbs.org or 702.799.1010 x5499
Vegas PBS uses the annuity rates approved by the American Council on Gift Annuities (ACGA). The ACGA reviews their rates at least every year, and they are subject to change.
Southern Nevada Public Television Endowment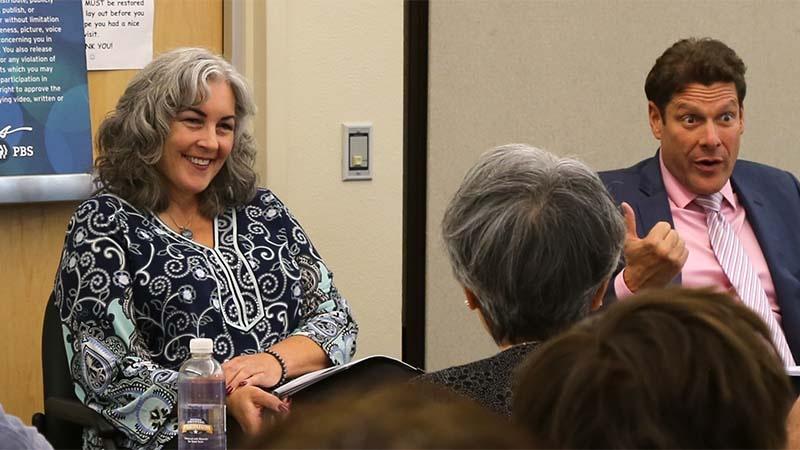 Our Best Work Happens Because of You
The Southern Nevada Public Television Endowment is a vital source of funds for Vegas PBS' programs and operations. It makes long-term planning possible, giving us the flexibility to pursue promising ideas and the capacity to commit to innovative new projects.
Gifts to the Southern Nevada Public Television Endowment can be designated for general purposes or earmarked for special projects, such as children's programs, news and public affairs, drama, arts or science. Estate gifts should designate Southern Nevada Public Television 501(c)3, 23-7169328 as the beneficiary recipient of your legacy gift.
When you make a gift of support, through your annual generosity or as a bequest upon your passing, to the endowment for unrestricted purposes your legacy lives on forever with Vegas PBS. Your generous support is invested to assist in the fulfillment of the future efforts of public service television.
Be Part of the Future of Vegas PBS
There are many ways you can support Vegas PBS with a planned gift including a bequest from your will or trust, a charitable IRA rollover, a life insurance policy beneficiary designation, a charitable gift annuity and other options. However you decide to set up your planned gift, we will work closely and confidentially with you.
We also offer you the support and guidance of some of the valley's most respected estate planning attorneys, certified financial planners, CPA's and Trust Officers who advise Vegas PBS. They will help you include public television in your estate plans. The right plan can offer tax saving benefits and lifelong income for you or your family while supporting Vegas PBS's mission to educate, inform and inspire.
With your gift intentions, you will become a donor of Vegas PBS' Silver Legacy Society, which recognizes those who have left a piece of their life's work to support public television and offers special benefits.