Ready To Learn | Story of Success | Carolina Perez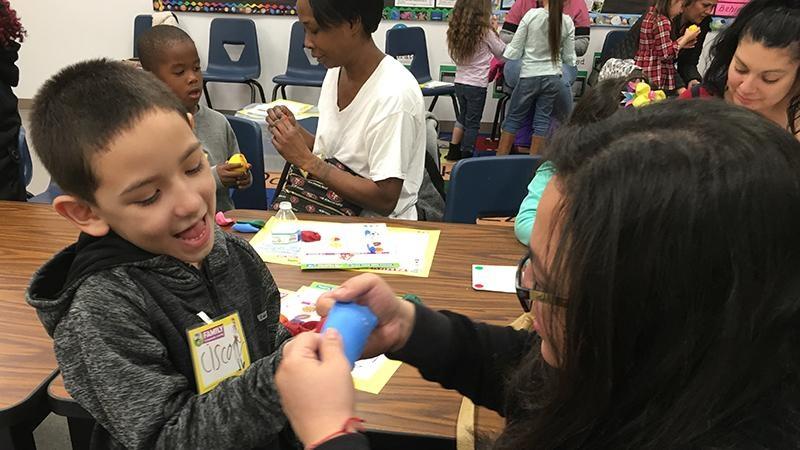 It showed him, "how to be a thinker and be open-minded [about] all the resources he could use [to create]."
Carolina and her six-year-old son, Cisco, never missed a session of Vegas PBS' The Cat in the Hat Knows a Lot About That! Family and Community Learning (FCL) workshops at Woolley Elementary School. Designed by Vegas PBS Ready To Learn staff, this national curriculum, based on the popular PBS KIDS series, introduces families to science and engineering concepts through four, weekly sessions.

"This workshop really gave us a breather once a week, where we could get out of the house and distract ourselves from what was going on," the married mother of four revealed. 2018 was a challenging year for the Perez family—they suffered the loss of family members and close friends. Despite her grief, Carolina signed up for the workshops because they were a positive experience and supported Cisco's love of learning, "He's into science…He asks questions nonstop."

During the second week of the FCL, families created bouncy balls out of water balloons. This activity teaches grown-ups and kids a simple and fun hands-on method to extend science concepts into the home using everyday materials. When reflecting on Cisco's favorite activity during the FCL, Carolina said "definitely [making] the ball with the balloons." This was a solemn evening for Carolina, however. "It was the night after my aunt had passed away…it was so sudden," she added. Carolina contemplated skipping the FCL, but seeing Cisco's enthusiasm motivated her to attend.

Interestingly, the simple bouncy ball Cisco and Carolina made that night provided a healing effect on their family during that difficult time. That evening, Cisco showed his bouncy ball to his uncle. As Cisco joyfully described how he created it, Carolina noticed her uncle was smiling too. "He was giggling. He was excited. He was able to keep his mind off the planning of the service," she explained. Vegas PBS offers FCL workshops to gather and engage families in science concepts, but we also aim to be a safe, reliable community partner for families to turn to for support when needed.

Carolina continues to apply the Science, Technology, Engineering and Math (STEM) concepts she and Cisco learned throughout the FCL by teaching families the bouncy ball activity at Woolley Elementary's STEM night, attended by 270 people. "It was a hit!" Carolina declared. As a long-term substitute teacher for the school's science class, she even observed "quite a few of the kiddos with the ball in their backpacks, bouncing them around" the day after the event. As a substitute, Carolina integrated components of the FCL into her lessons for students. However, when reflecting on the experience, she was most surprised by its impact on Cisco's learning. It showed him, "how to be a thinker and be open-minded [about] all the resources he could use [to create]." With a smile, Carolina admitted, "All the things going into the recycling catch his eye now."

Carolina is only one of thousands who use educational tools acquired at Ready To Learn's community outreach programs each year. Funding for the FCL workshops is provided by a grant from the Corporation for Public Broadcasting. In addition, Vegas PBS receives donations from community partners like you to sustain these unique initiatives and ensure that parents and teachers like Carolina have access to the highest quality educational resources to support learning at home, including tablets, books and take-home materials. Please consider donating to empower Southern Nevadan caregivers, teachers and children through Ready To Learn.