Nevada Week | Meet the Host

Kipp Ortenburger became the host of Nevada Week in January 2019 and has been a part of the creative and development team since the show's earliest beginnings.
Originally from Southern California, Ortenburger has been part of the Vegas PBS team in various development and strategic roles for more than four years. He has worked in the nonprofit sector for various community-based organizations in similar roles for more than fifteen years. An All-American athlete in Track and Field, Ortenburger graduated from California State University in Fresno, with a Bachelor of Arts in English. An avid learner and world traveler, Ortenburger has lived in Barcelona, Spain and visited various countries in South and Central America, Europe, Asia, and more.
Growing up in Los Angeles, Ortenburger developed a strong connection with PBS by watching shows that gave a voice to local community leaders and a platform for important discussions. In this same spirit, Ortenburger's passion and commitment for balanced coverage of local issues, makes him the perfect moderator to facilitate the conversations on Nevada Week, that give local and state issues a fair voice.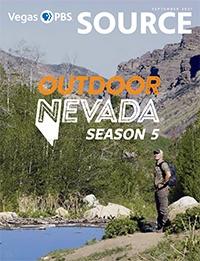 Download our monthly program guide (PDF).

Support Vegas PBS in our mission to inspire, enrich, and educate.
Donate