Vegas Strong: Five Years Later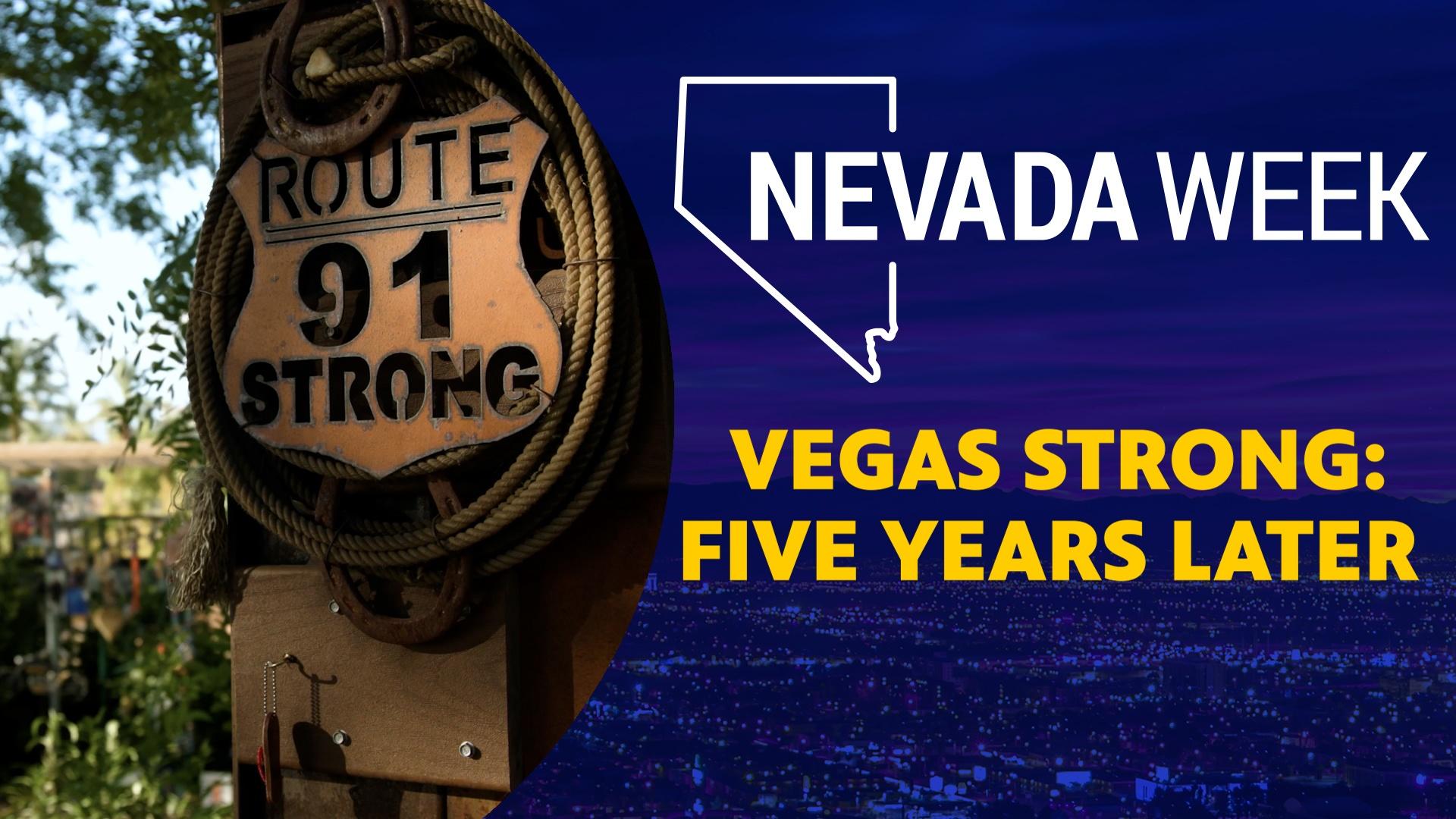 Nevada Week
Vegas Strong: Five Years Later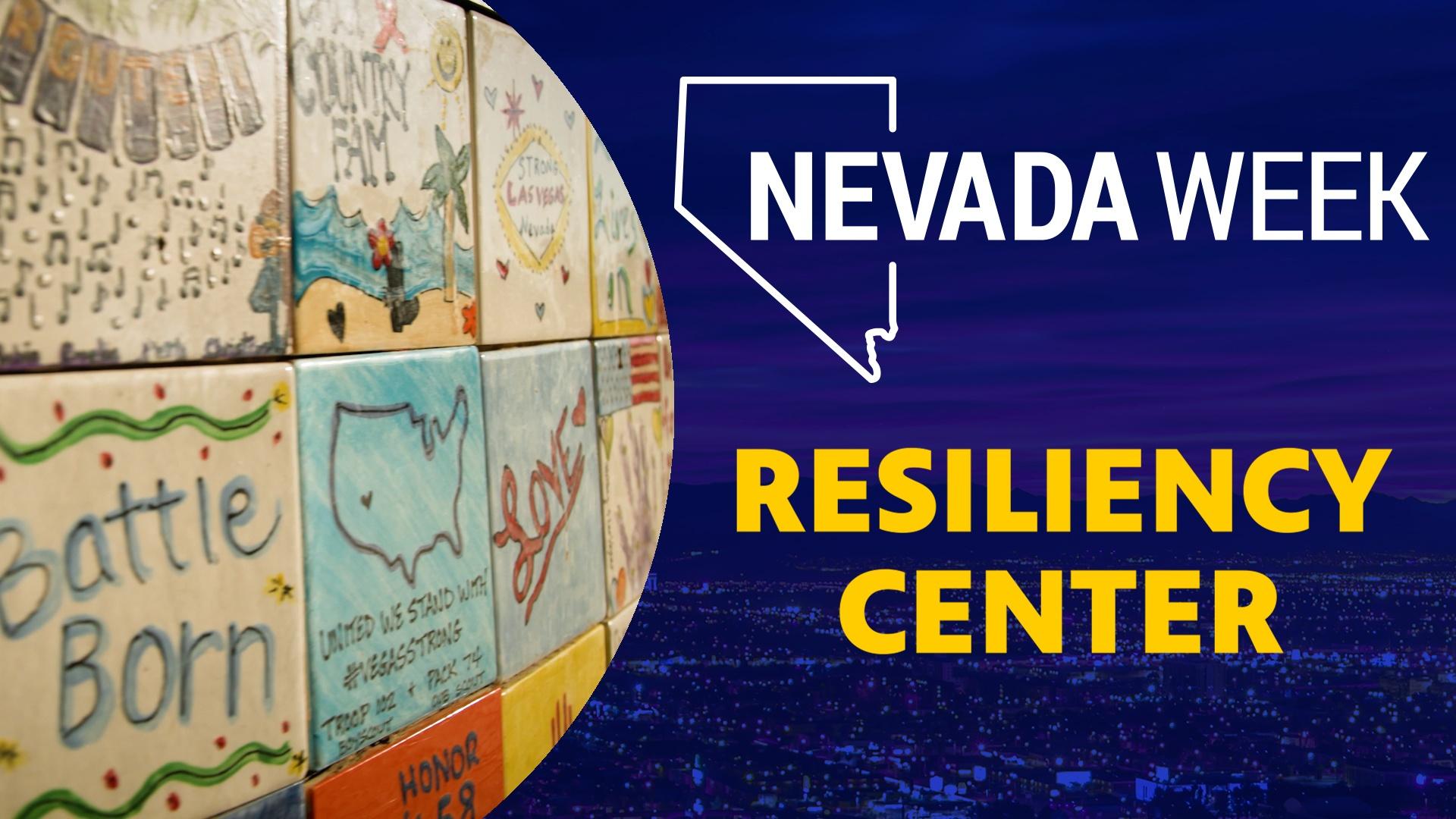 Nevada Week
Resiliency Center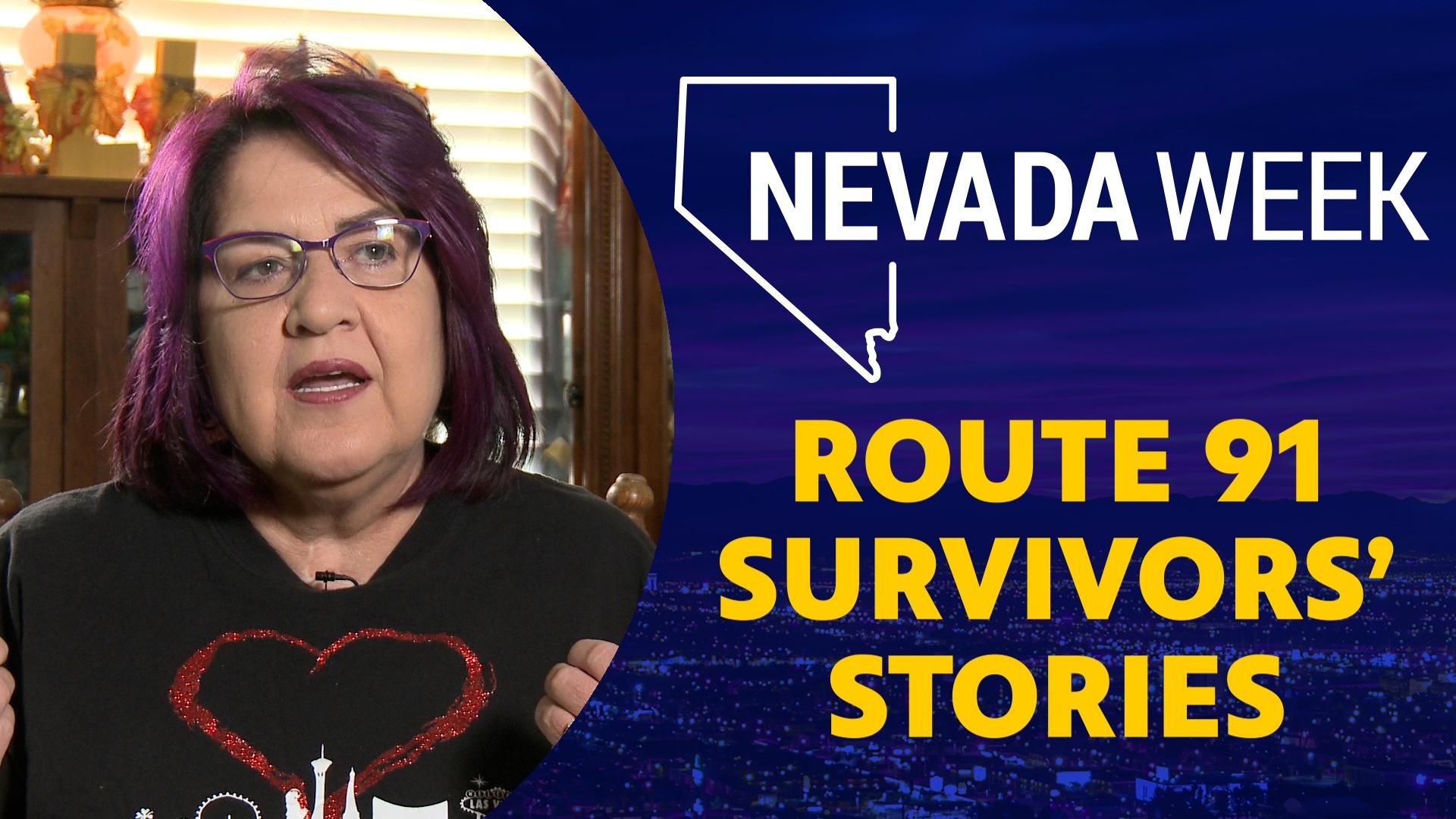 Nevada Week
Route 91 Survivors' Stories
Nevada Week |
Vegas Strong: Five Years Later
SEASON 5: EPISODE 12 | Airdate: 9/30/2022
Five years ago, on October 1, 2017, a gunman fired more than 1,000 rounds into a crowd attending the final night of the Route 91 Harvest Festival on the Las Vegas Strip.
Rosemarie Melanson was enjoying some country music and the company of her two daughters Paige and Stephanie, that night when she was shot in the chest.
"And I just remember thinking, I think I just got shot, and then I pulled my cell phone out of my front pocket and I text my husband, 'I just got shot I love you,'" she explained.
Rosemarie's memories of that night include pictures taken just minutes before the shooting began and an out-of-body experience.
"And I could see my dead body on the ground," she said, "I could see my girls over top of me. I could see their friends. I could hear the bullets going. I could see people running and jumping. I could see the whole scenario down here of people."
Her daughter Paige remembers a stranger pointing out that she had been shot in the arm and then realizing that her mother was lying on the ground.
"Our mom is laying there and she is not moving and she is face down, palms up and that was a really scary thing to see," she said, "We just thought well maybe mom is just a mom and she knows what to do in this situation and maybe we should just lay still too. It was not until we crawled over to her that she gave us no direction. She is literally lifeless at that point. And we flipped her over and that's when we realized she had been shot in the chest."
Rosemarie's injuries were extensive.
"It broke two ribs. It punctured my lungs. It blew out the conjunction where the esophagus meets the stomach. It just blew that conjunction right out went through my stomach. Took out a third of my liver. Went through my spleen. My kidneys were infected. I had a torn rotator cuff. I was on life support for two months," she said.
More than 20 surgeries and procedures later, Rosemarie authored a book about her experience to inspire people.
"If I can get through what I went through I wasn't expected to live you can get through it too," Rosemarie said.
Part of the proceeds from the book will benefit the Vegas Strong Resiliency Center.
"Because I want them to be able to use it for mental health awareness because it is such a problem whether you're going through a divorce, whether you're going through cancer. whether you're going through bipolar, whether it's trauma, PTSD, whatever obstacle you're facing therapy can definitely navigate through the issues that you're having," she said.
Rosemarie said therapy was everything to her and she's not sure where she would be today without getting professional mental health services.
Shortly before the shooting, the family had expanded their dance studio - Dance Dynamics. Throughout their lives, Paige and Stephanie utilized dance as a form of therapy.
"The way that music can carry you and the way you allow your body to move through it," Stephanie said, "Sometimes you just get lost in the class and the music and steps and it's a really, really good release for whatever you're feeling."
But after 1 October, Rosemarie felt her daughters needed traditional therapy to talk to someone, which they did try immediately after the mass shooting, only to find the right fit about a year later.
"A minute after meeting my therapist I knew 'Oh my gosh, this is him,' a minute after meeting him I started to tell my story and I just started crying and crying and crying. I didn't realize how much i needed therapy," Rosemarie said.
Stephanie agreed that the therapist they ended up connecting with made a major difference in their lives.
"We were definitely very blessed," she said, "He was the best person I could have ever talked to about everything that I needed to go through and talk about, really really grateful for that," she said.
Gratitude for each other is what binds the Melanson family. As does their shared experience of tragedy, which all three agree, they will likely never fully recover from.
"But I don't let it bring me down, because this is the way I look at it, I don't think God gives us more than we handle. Although that was a lot to handle. It was a lot to handle but the way I look at is when that gunman decided to do that it was awful, awful, awful but if you allow it to fester and inside of you you're going to be walking around like this all the time with your shoulders down and I just refuse to do that," Rosemarie said, "Ii refuse to allow him to win. I will not allow it to happen."
The Route 91 Harvest Festival shooting ultimately left 60 people dead, hundreds wounded and thousands traumatized. From the darkness of that day, grew the Vegas Strong Resiliency Center, a place of healing and support serving survivors and victims' families for the past five years.
But that role is expanding, said center director Tennille Pereira. She said when the center first opened in the wake of the tragedy, it was a place for anyone impacted to find resources to help them heal.
Now, over time those needs have evolved and so has the resource center. It will now be available to help anyone impacted by violence or trauma.
"We've learned so much from our work with the 1 October population why not use that to bring some light to our community for everyone dealing with trauma," she said.
Pereira said the center still gets people from 1 October coming in to seek help even though the tragedy happened several years ago. She said the pandemic added another layer of difficulty to a lot of lives impacted by the shooting.
The resiliency center started as an emergency center where the coordinated effort to respond to the emergency was located. When the immediate rescue effort was over, the family assistance center grew from the emergency center, Clark County Fire Chief John Steinbeck explained.
He said the family assistance center opened at the convention center within hours of the tragedy to provide any kind of support families would need. In 20 days, they helped 3,700 people, looking for everything from behavioral health support to financial help.
Steinbeck noted that some victims just got on a plane and headed home. There were also survivors still recovering in the hospital. He said those involved knew they needed to expand the center's mission. Officials from Orlando, Florida, which had suffered its own tragedy at the Pulse Night Club the year before, provided a roadmap to follow.
Before 1 October, there was not an agency assigned to assist victims' families and survivors after an emergency, Chief Steinbeck said. Now, that has changed and people in need have access to all kinds of help after a crisis.
Lorea Arostegui-Johnson plays a unique role in providing that help. She is a family assistance center victim specialist at the resiliency center. At the time of the shooting, she was working for the clinical unit of Clark County Family Services. Her unit was requested to help families during the coroner identification and notification process.
When the assistance center transitioned to the resiliency center, she stayed on. Now, she works as the victim's eyes and ears for Clark County emergency management. She provides a victim's point of view when planning for emergencies.
For example, during recent training for a mass casualty situation at a local hospital, Arostegui-Johnson observed the training and recommended changes to procedures to help minimize trauma.
During the hospital drill, she noticed that the way some emergency workers and first responders were treating the deceased during the training could have been perceived as uncaring for people looking to find family members during a mass tragedy.
Pereira said that kind of information combined with what they gathered from survivors will help the entire system be better trauma-informed. As an example, a survivor, who had been shot three times, was told by hospital staff that she was one of the lucky ones, but she did not feel like one of the lucky ones while recovering from three gunshot wounds. Pereira said knowing a better way to respond will help everyone.
This kind of cooperation and knowledge is unique, Chief Steinbeck said. In fact, emergency managers have been asked by other communities to help after tragedies and provide them with the blueprint for setting up a resiliency center before something happens.
Arostegui-Johnson said when she went into the family assistance center in the hours after the shooting it was scary. She saw everyone doing the very best they could with what they knew about emergency response and family assistance, but if something horrific happens now, the city will be much better prepared to respond.
"We've been there," she said, "We know what we did right. We know what we could have done better and we've built a really strong team from that."
Steinbeck agreed and said a big part of the team is the Vegas Strong Resiliency Center, which cannot only provide services after a tragedy involving multiple victims and survivors but also to people after a house fire, car crash or violent incident.
Guests
Tennille Pereira, Director, Vegas Strong Resiliency Center
Lorea Arostegui-Johnson, Family Assistance Ctr. Victim Specialist, Clark County
John Steinbeck, Fire Chief, Clark County

Appearing in this episode
Rosemarie Melanson, Route 91 Harvest Festival Survivor
Paige Melanson, Route 91 Harvest Festival Survivor
Stephanie Melanson, Route 91 Harvest Festival Survivor

Support Vegas PBS in our mission to inspire, enrich, and educate.
Donate