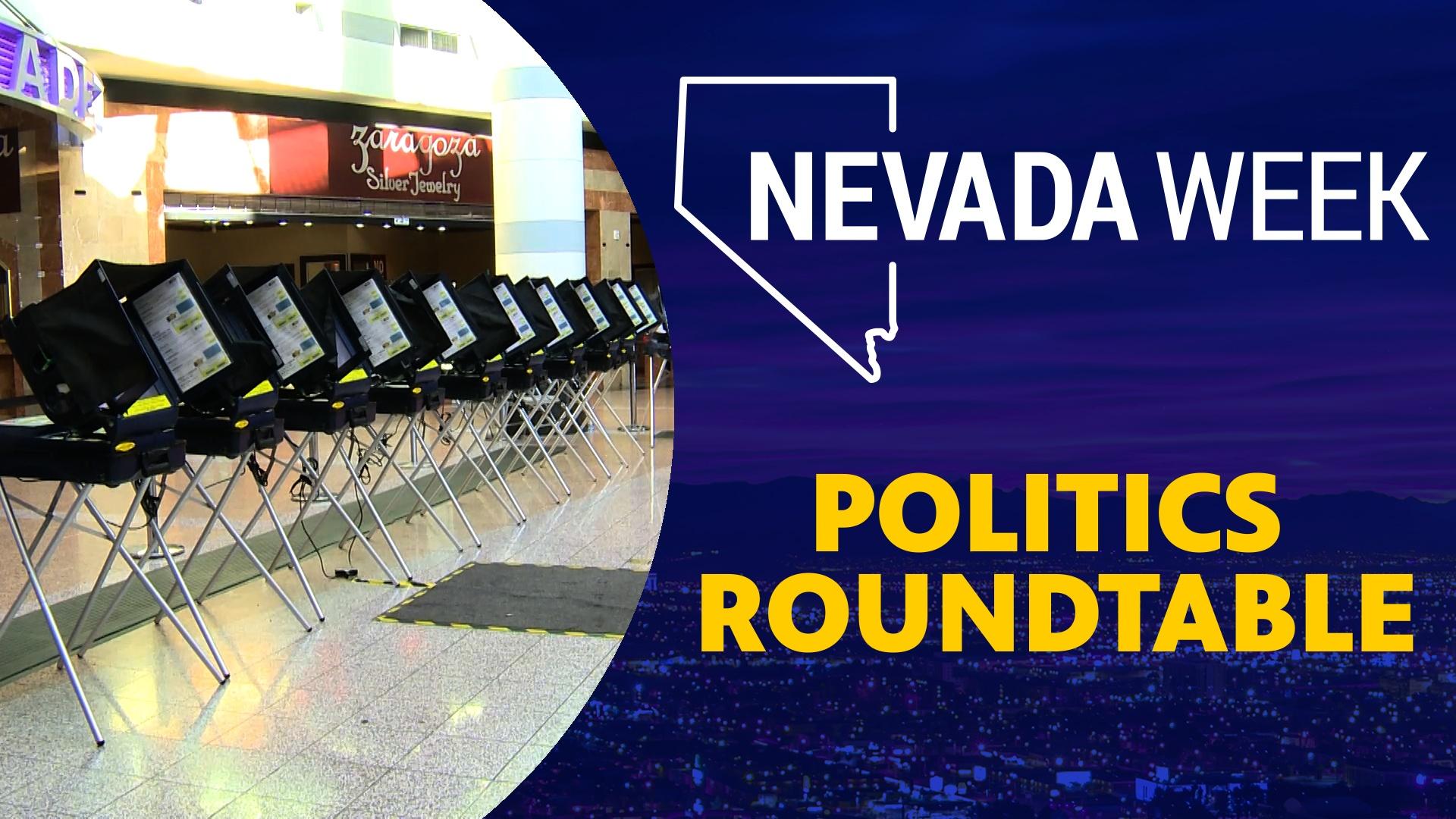 Nevada Week
Politics Roundtable
Nevada Week |
Politics Roundtable
SEASON 4: EPISODE 49 | Airdate: 6/17/2022
The Primary Elections are over and the November General Election races are set. In Nevada's race for governor, Democratic incumbent Steve Sisolak will face off with Republican challenger Joe Lombardo. In the race for one of Nevada's Senate seats, which could determine the balance of power in the Senate, Democratic incumbent Catherine Cortez Masto will face Republican Adam Laxalt.
In the congressional races, Democratic incumbent for District 1, Dina Titus, will face Republican Mark Robertson. In Congressional District 2, in northern Nevada, Republican incumbent Mark Amodei will face Democrat Elizabeth Mercedes Krause. In Congressional District 3, Democratic incumbent Susie Lee will face Republican April Becker and in Congressional District 4, Democratic incumbent Steve Horsford will go against Republican Sam Peters.
The non-partisan Cook Report said that all but Amodei's race were a tossup in November. David Damore, chair of the Political Science Department at UNLV, said that Rep. Dina Titus might be at the most risk of losing her seat. He noted that she got a lot of new areas added to her district when it was redistricted. He said she really didn't need to run before but that has changed.
Colton Lochhead, politics reporter for the Las Vegas Review-Journal, said that the race between Sisolak and Lombardo was something the Sisolak's camp had hoped to avoid. He believes it is going to be the tightest race of the General Election. Lochhead explained that there are a lot of issues that Sisolak is going to have to overcome from the economy to his COVID policies.
Jessica Hill, politics reporter for the Las Vegas Sun, believes Sen. Catherine Cortez Masto is in the tightest race of the November election. Rollcall named her among the top ten most vulnerable senators and President Joe Biden's low approval ratings will not help. Hill believes those will be attacking points for opponent Adam Laxalt.
Dan Lee, associate professor of Political Science at UNLV, also believes the governor's race is the one to watch this November. He said inflation along with pent-up dissatisfaction with how the governor dealt with the pandemic will impact the race. Lee believes November will be a chance for people who were unhappy with his policies to get Sisolak out. He also noted that Lombardo was one of the more moderate candidates in the Republican primary for governor.
While Lombardo was named the winner of the primary, fellow Republican Joey Gilbert did not concede the race. Damore says that is where politics are, "I didn't win therefore it's rigged." He noted that it was ironic that Nevada GOP chair Michael McDonald said that they didn't need this kind of division in the Republican Party when he was part of the efforts to push that the 2020 election was rigged, without evidence.
Senate candidate Adam Laxalt was also part of the effort and even helped with the lawsuits by the Trump campaign to claim fraud in 2020. Lee said if Laxalt loses in the fall, he has a way to claim fraud again but if he wins he can claim that he would have won by even more.
"Either way, I think it's an issue that he's going to bring up to mobilize his base," Lee said, and he noted that Laxalt wasn't the only candidate questioning the legitimacy of the election process. He said GOP candidates across the country are using that argument as well.
Hill said that voters she talked with are not necessarily concerned about election fraud but she has spoken to voters who are concerned about the number of observers at the polls and voter privacy. She said that voters she has talked to don't see the election as stolen but they do wonder about problems in the system and how elections are conducted. She said that the GOP could get to voters by talking about election reform in that way.
In the gubernatorial race, Lombardo steered clear of using some of the more inflammatory rhetoric around election fraud claims in the Primary Elections. Lochhead said Lombardo didn't feel the need to hit that topic during the campaign. He acknowledged it was a fair election and that did not end up hurting him among Republican voters. Lochhead believes there are two types of people in the GOP – those who want to move past the 2020 election and those, like Joey Gilbert, who are going to continue to question the integrity of elections, despite there being no evidence to support those claims.
Damore pointed out that 29 percent of the electorate are nonpartisan in Nevada and it is the fastest-growing part of the electorate. He said it will be interesting to see some of the joint campaign appearances where firebrands who have run on false claims of election fraud and someone like Lombardo, who has said the election was fair. Damore said he would be "interested to see how he does that dance."
Another point the professor made is that Lombardo did poorly in the rural parts of the state. The GOP counts on those voters coming out but if they're not excited about voting in the governor's race because there are two Clark County candidates, who both happen to be UNLV graduates, it might hurt Lombardo's chances in the rural counties.
"I think that is a very interesting dynamic. That's the first time we've ever had that in the state," he said.
Lochhead said that Lombardo won Clark County and the three southern counties but the rest of the state went to Gilbert, which speaks to Damore's point about turnout for Lombardo in the rural counties.
Lee believes the GOP will be counting on Adam Laxalt, not Lombardo, to energize the base in the rural counties and get them out to the polls. Plus, he noted, when rural voters get to the polls it is unlikely they'll vote for a Democrat, even if the Republican is from Clark County. He said that in this era of negative partisanship voting behavior is driven by dislike of the other party.
But Lee did say it might be smart for Lombardo to do his own campaigning instead of partnering with other Republicans. He thinks this fall could be a case where Nevada voters split the ticket giving some offices to Republicans and some to Democrats.
Hill believes one of the biggest disadvantages for the Laxalt campaign might be his energy during stump speeches and rallies. She said that at a recent Laxalt rally Sen. Ted Cruz, R-TX brought a lot of excitement and charisma to the speech but Laxalt was more straightforward and done in about 15 minutes.
Lochhead also wonders who the Democrats will bring in to fire up the base. He said that it is unlikely they'll bring in President Biden because of dismal approval ratings. He compared that to 2016 when then-President Barack Obama made an appearance in Southern Nevada to excite the voters and there were a lot of people and a lot of energy.
All of the panel agreed that the state of the economy and which side can be blamed for it will play a central role in the election in November.
Guests
Colton Lochhead, Politics Reporter, Las Vegas Review-Journal
Jessica Hill, Politics Reporter, Las Vegas Sun
David Damore, Chair of the Department of Political Science, UNLV
Dan Lee, Assistant Professor of Political Science, UNLV

Support Vegas PBS in our mission to inspire, enrich, and educate.
Donate