Children's Mental Health and Alzheimer's Disease Research | Nevada Week
by
Published on
• Last modified on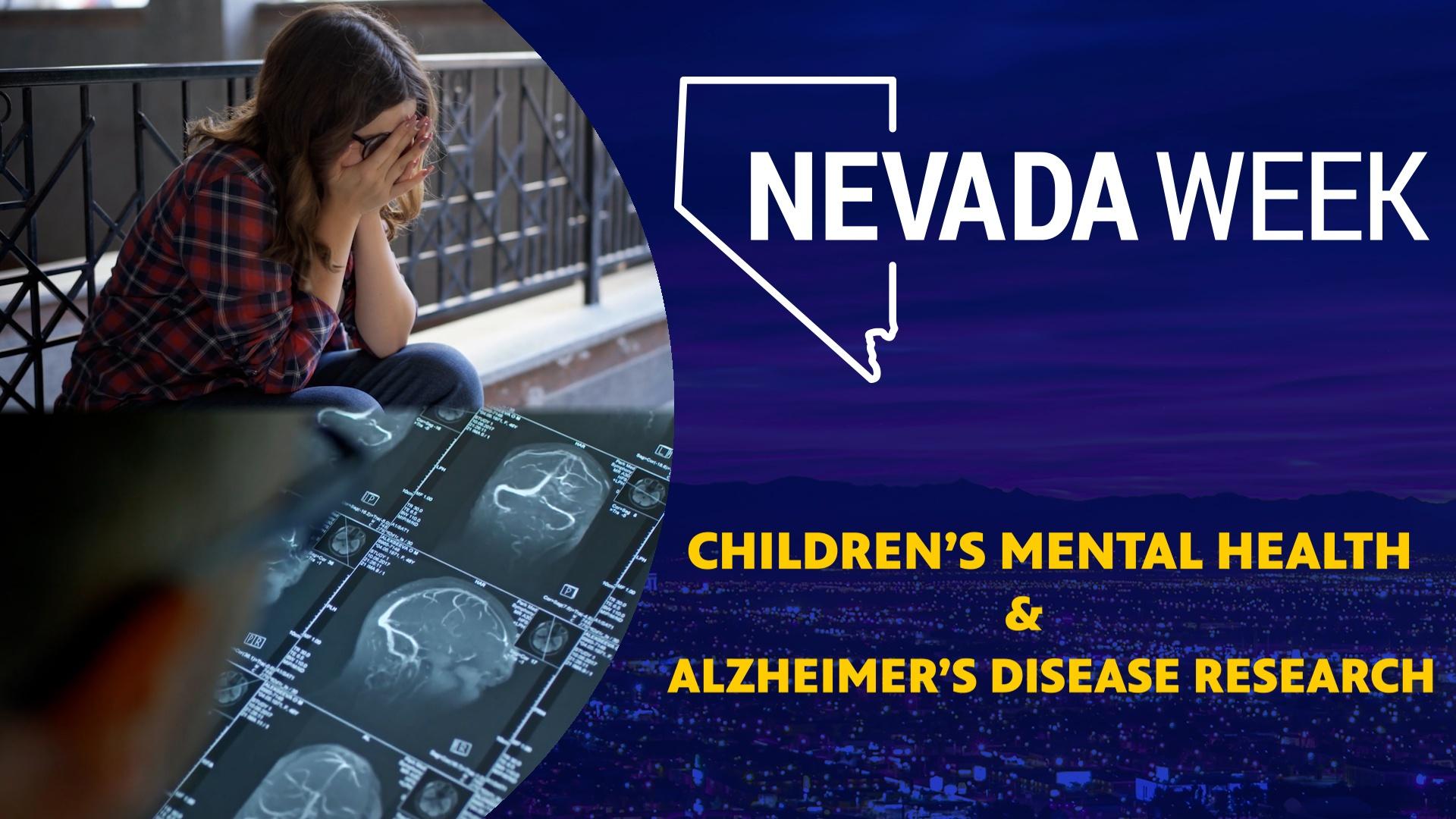 Nevada Week | Season 4
Children's Mental Health and Alzheimer's Disease Research
We'll examine children's mental health and efforts to study and treat Alzheimer's disease.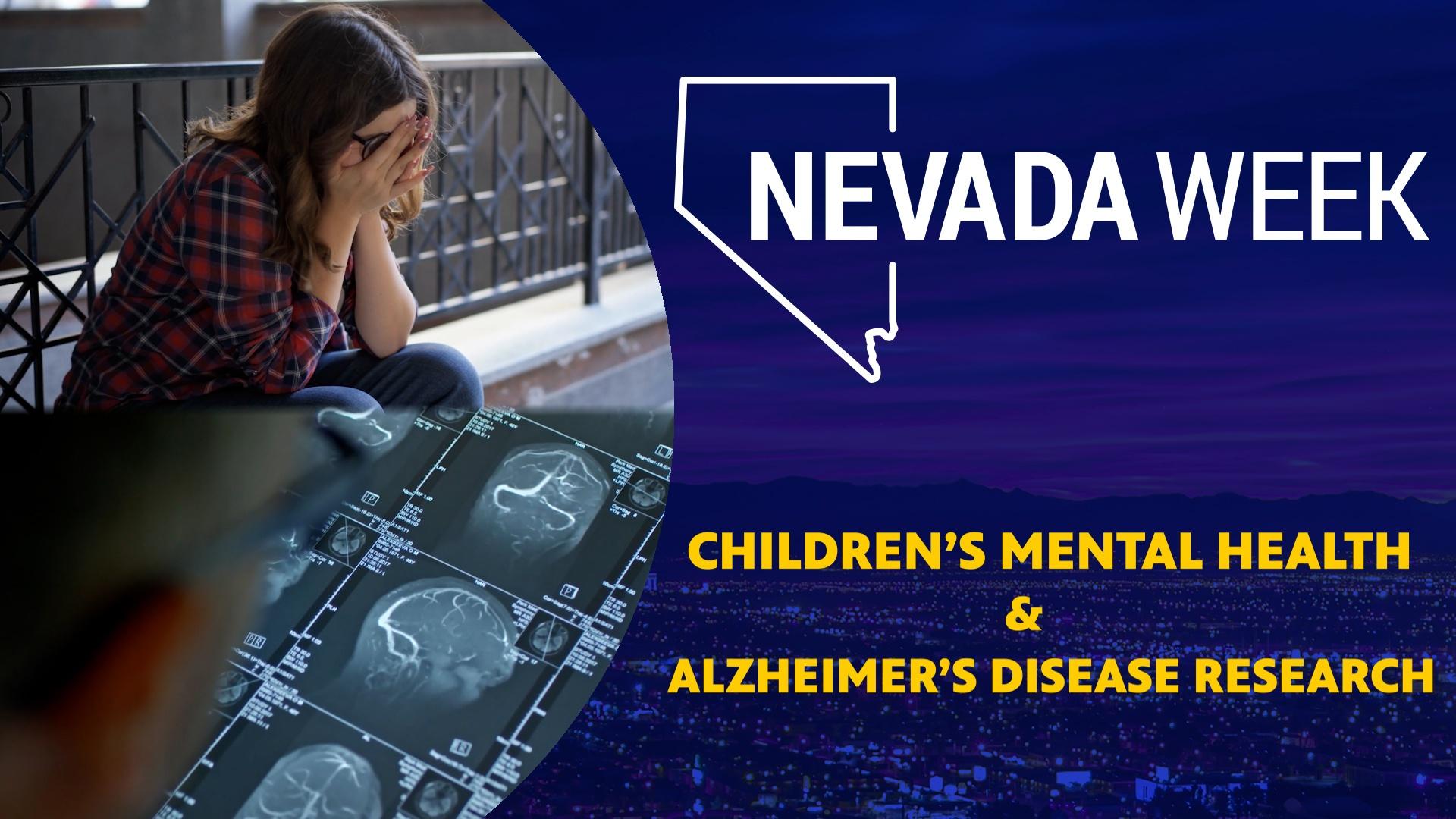 Nevada Week
Children's Mental Health and Alzheimer's Disease Research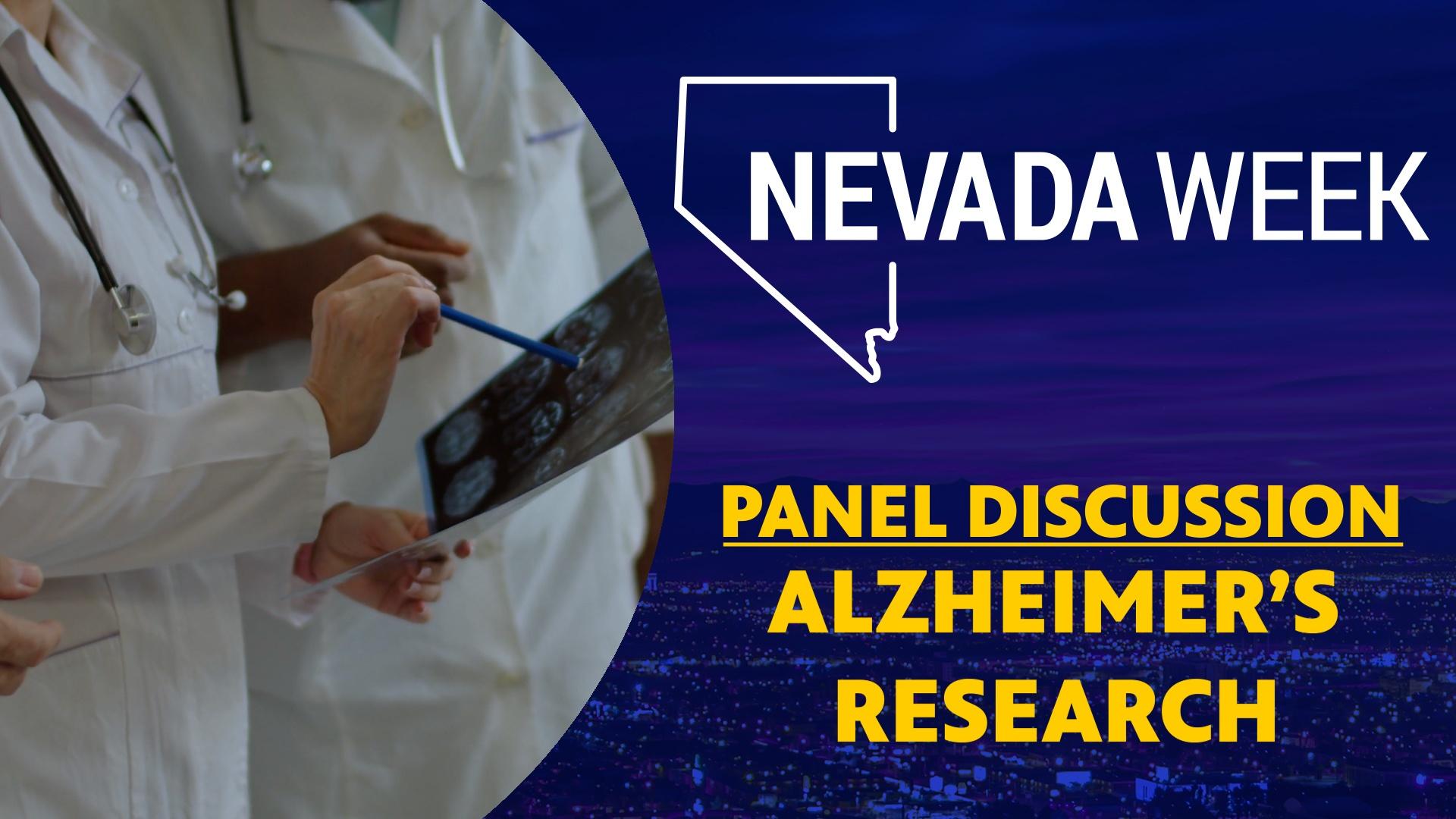 Nevada Week
Panel Discussion | Alzheimer's Research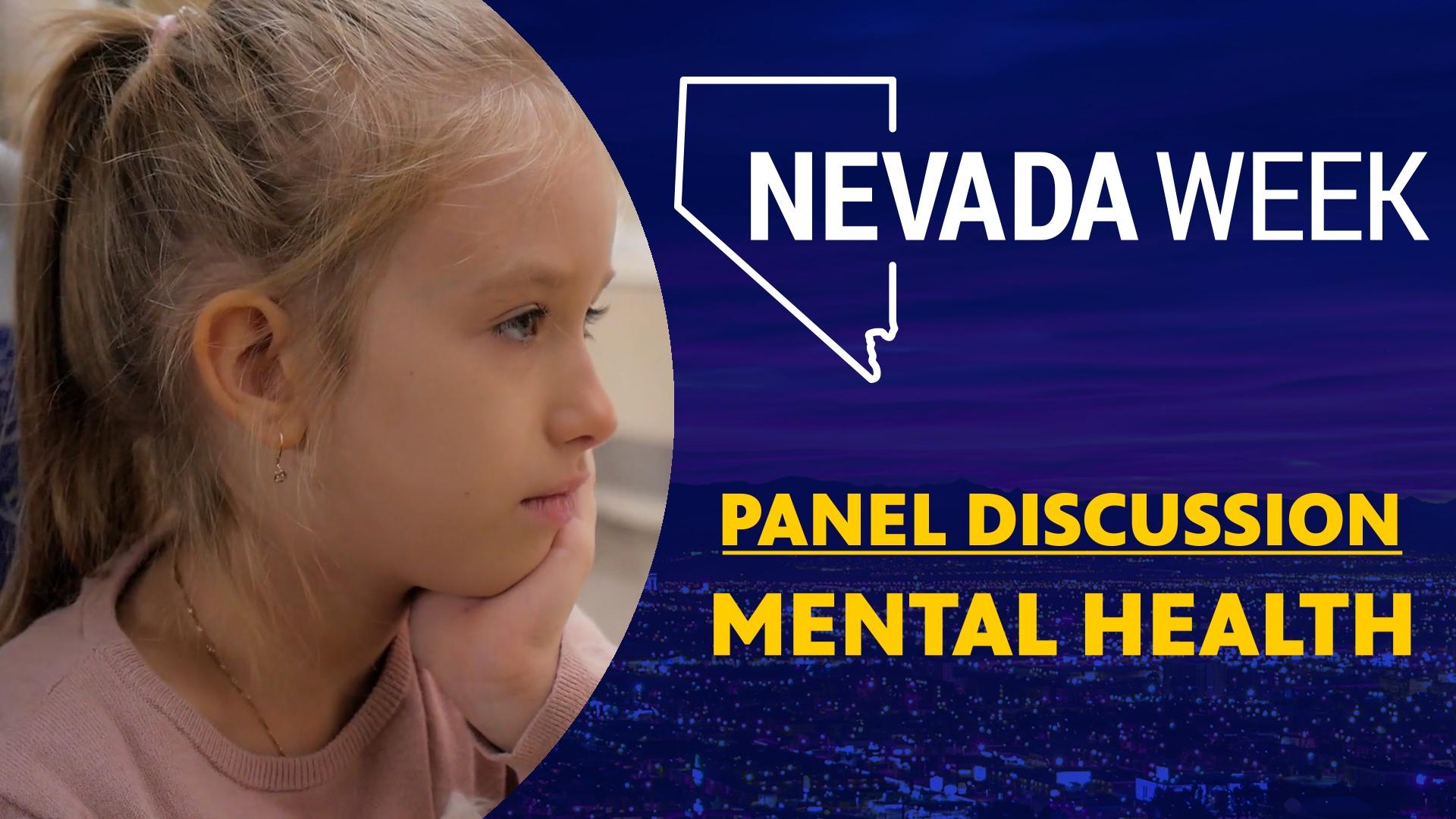 Nevada Week
Panel Discussion | Mental Health
Nevada Week |
Children's Mental Health and Alzheimer's Disease Research
SEASON 4: EPISODE 43 | Airdate: 5/6/2022
May is Mental Health Awareness Month, and according to a report released in April by the Centers for Disease Control and Prevention, the COVID-19 pandemic worsened the mental health issues that adolescents had already been experiencing.
Sheldon Jacobs is a licensed marriage and family therapist and the vice president of the National Alliance on Mental Illness in Southern Nevada. He said before the pandemic he worked with kids struggling with depression and milder forms of anxiety, but since the pandemic, anxiety in kids has been "through the roof."
He said he is getting daily calls from parents saying their kids are struggling with a lot of anxiety.
Janet Nordine is also a licensed marriage and family therapist and she is a registered play therapist at the Center for Connection. She said kids are anxious because of the isolation experienced during the pandemic. Even a year into being back with peers at school, kids are still feeling the anxiety, she said.
She also said that bullying is a big deal for many children. Kids are also dealing with parental relationships. She said if parents aren't getting along well that is impacting kids' mental and emotional health.
In addition, Nordine said she is working with kids who have lost loved ones to COVID-19, which means there is a layer of grief and loss that needs to be dealt with.
When Jacobs meets with kids, he tries to make sure they know that whatever they are feeling is okay.
"What I say to them is its okay to not be okay," he said, "It's okay to be feeling the feelings they're feeling and to be struggling with the issues that you are experiencing"
Jacobs said it is important to normalize those feelings as much as possible and let kids know they are not alone.
Nordine advises parents to ask their children if they are okay.
"Just that question, 'are you okay?' tells a child that my parent is paying attention to me and they're really interested in what's happening in my life," she said.
She also said it is important to ask open-ended questions that aren't yes or no questions.
Jacobs said it is important to listen especially to teenagers and not to react negatively to conversations that they might find uncomfortable. He said it is important to be supportive and let your children know you are there for them.
And when it comes to talking about thoughts about suicide or self-harm, Nordine advises parents not to be afraid to ask their children if they've thought about it. She said talking about suicide doesn't plant the idea in a child's head. In fact, she said talking about suicide releases those emotions and allows kids and parents to have a conversation about those tough topics.
"If kids are feeling suicidal that doesn't necessarily mean they want to die, they needed a way to express themselves and get help," she said.
If you or someone you know has thoughts of suicide, please contact the National Suicide Prevention Lifeline at 800-273-8255.
The state is getting federal money to transition to the new 988 suicide prevention hotline. Much like contacting police or fire when you call 911 when someone calls the new number, a crisis team will help those in a mental health emergency.
Jacobs said the new number will be much better than having police, who don't have the level of training in mental health that trained therapists do, called to help someone in need. He also believes it will help keep kids out of the juvenile justice system.
ALZHEIMER'S DISEASE RESEARCH
The Center for Neurodegeneration and Translational Neuroscience or CNTN, which is a project run jointly by Cleveland Clinic Nevada and UNLV's Department of Brain Health, recently received an extension of a grant that will be used to expand the center's research into diseases like Alzheimer's, Parkinson's and Huntington's.
Nevada is home to one of the fastest-growing Alzheimer's populations. The Alzheimer's Association estimates Nevada will see a 30 percent jump in Alzheimer's patients by 2025.
Dr. Aaron Ritter is the staff neuropsychiatrist at the Cleveland Clinic Nevada. He said one of the main reasons for those statistics is Nevada's aging population.
He said Alzheimer's disease is a common disease for people over the age of 65. So, since people like to move to Las Vegas and Nevada to retire, there are going to be more cases as the Baby Boomer generation ages.
Ritter said there is a commitment in the Las Vegas community to better care for Alzheimer's patients and their loved ones, which is why the grant extension is so important.
Jeff Kinney is the founding chair of UNLV's Department of Brain Health. He said the first phase of the grant from the National Institutes of Health allowed UNLV and Cleveland Clinic Nevada to create the center in 2015.
The center has already fostered new research in the years since it was created and it has fostered new researchers. Now, the extended grant will allow the center to expand in both research projects and new researchers.
Kinney said research at the CNTN has already found differences in how Alzheimer's develops in men and women and it has found new mechanisms that might be driving the disease.
Perhaps most importantly, Kinney said the center has created a very strong cohort of research subjects that are used for studies. The subjects are members of the community that have made a commitment to come to the Cleveland Clinic once a year for blood work and brain scans.
Kinney said that data advances their understanding of the disease.
One of the most important discoveries has been around the science of biomarkers. Researchers are looking for certain proteins or other markers in blood that could be an early indicator of someone's risk for developing the disease.
"These are really a needed thing in Alzheimer's research," Kinney said, "The ability from a blood sample to do a test and I think we're very close to this. To test for a good predictor that the disease is coming because that means you can start to intervene earlier. You can understand the disease earlier."
Nevada received the grant from NIH because it has been historically underfunded in the area of health research. Ritter said Nevadans often had to go to California or Utah for health care and research studies, but now thanks to efforts like the Cleveland Clinic Nevada, which opened the Luo Ruvo Center for Brain Health in 2012, and UNLV's new medical school and it's Department of Brain Health, the doctors, researchers and scientists working in this field are where the patients are.
"So we have the patients. Now we have the scientists and we have the science to be able to make some real big strides in understanding this disease," he said.
In 2021, the first new drug to treat Alzheimer's disease was approved by the Food and Drug Administration. However, the drug – generically known as aducanumab – is not without controversy. It was approved by the FDA, despite an advisory committee at the agency recommending it not be approved.
Also, in April of 2022, Medicare decided it would not cover the drug unless it was being used in a clinical trial. The drug is extremely expensive, costing around $2,000 a month.
Both, Ritter and Kinney, admit that aducanumab is a complex problem. The drug has been shown to get rid of the protein plaques that build up in the brains of Alzheimer's patients, but one study of the drug showed it didn't improve memory or thinking in patients. Another study showed there was some improvement.
"That's a huge step forward for the field," Ritter said, "Whether or not it's the right prescription or medication for everybody right now, I think that's the question that we're wrestling with at the Cleveland Clinic, that's the question CMS is wrestling with and that's the question the FDA is continuing to wrestle with."
Kinney said aducanumab is just the first of a series of drugs that work at removing the plaque buildups that researchers know play an important role in the development of Alzheimer's. But he said, the field has diversified over the past 20 years. He said researchers are not just working on the plaques but they're also looking at the tangles of proteins that also develop and they're working on the inflammation that results from the tangles and plaques.
"So really what we're starting to learn is that this is a complex ensemble of pathologies that gives rise to Alzheimer's disease and there may be some variations of that," he said.
Ritter said that while aducanumab is not perfect people who have a loved one suffering from Alzheimer's know that current treatments are not going to cut it. He said that people are living longer because of better treatments for heart disease and cancer but a longer life means a higher risk for Alzheimer's.
"People are living longer, that's a great thing, but now we need to be able to translate that long life into long brain life," he said.
Kinney and Ritter are hopeful that efforts underway right now in Las Vegas will help create that longer brain life for future generations.
Guests
Janet Nordine, Registered Play Therapist, The Center for Connection
Sheldon Jacobs, Vice President, NAMI-Southern Nevada
Dr. Aaron Ritter, Staff Neuropsychiatrist, Cleveland Clinic Nevada
Jefferson Kinney, Founding Chair, Department of Brain Health UNLV

Support Vegas PBS in our mission to inspire, enrich, and educate.
Donate